DOT, DOT, DASH uses curved piecing.  Don't be intimidated; it's not difficult!  The block is bold and striking with the contrast of indigos and light shirtings.  You will learn how to get perfect Drunkard's Path blocks using a minimum of pins.  It's really fun and easy and you will never be wary of curved piecing again! This class is suitable for those with intermediate sewing skills, and the class requires a sewing machine in good working order.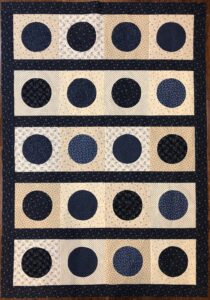 Class Policies & Information – Please Read!
Below, you will find the classes that we offer. Please click on a photo for more information about the class. Please understand that some classes build off of others and usually must be taken in sequence. If you have any questions at all, please don't hesitate to contact us via email or a phone call! If a class shows full online, please contact us via the phone for possible availability.
All classes have a specific supply list. If you sign up online, please make sure that you acquire what you will need prior to class beginning. Please stop by the shoppe for a complete supply list for your specific class. We stock most everything needed for classes, so earlier inquiries for lists are always the best idea to determine what you will further need. Please note that all class fees are inclusive only of the instructor's fee, unless otherwise noted.
Please understand that all classes require a 48 hour cancellation to avoid forfeiture of your class fee. If you need to reschedule to another class, we can do that for you! Please just give us enough advance warning. More times than not, we do have people on wait lists that would love an open space.
***Please note that Twitter classes cannot be refunded. These are special event classes that included material (magazine) that can no longer be obtained.
Thank you for your understanding and we can't wait to see you in the shoppe!