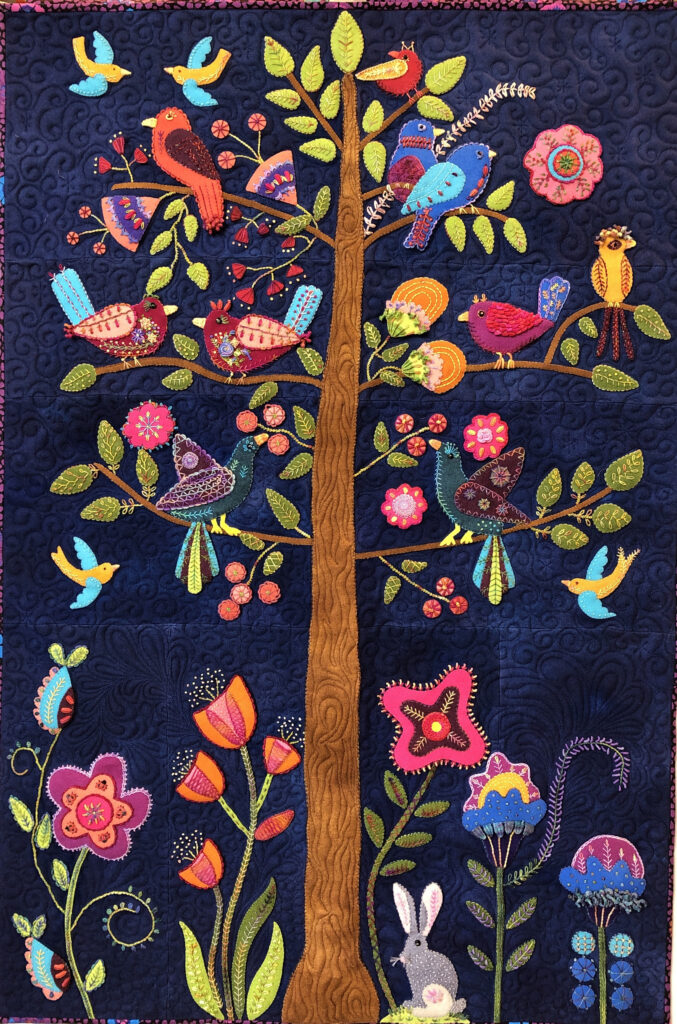 Nocturne
by Kerry Green
Be sure to check our BOM page for how you can secure a spot for this beautiful hand dyed wool appliqué wall hanging!
---
We've got everything you need for your next quilt project in our expansive collection of cottons, flannels, homespuns, silks, and hand dyed wool.
We specialize in wool and cotton kits, and have many embellishment choices including Valdani, Sue Spargo, The Thread Gatherer, Painter's Threads, and also Ellana wool threads. In addition, we carry books (always 20% off), patterns, and a large selection of the newest Yazzii bags. Come visit our shoppe to see our wonderful selection of notions and gift ideas!
Each summer, you can visit our shop to see and purchase the current Row by Row block. Come October, we are a participant in Shop Hop and Wooly Block Adventure as we head into winter.
If you love structured projects, please take a look at our BOM programs that we offer, and are always adding new. We will always have at least a few running each season, and most can be purchased as complete kits.
You can check out the Calendar page at anytime to get a list of the current classes and events.
We welcome special requests – please call the shoppe at 480-473-2171 or drop us an email at : monique@theoldeworldquiltshoppe.com.
Thank you for taking the time to stop by and visit our website, and please be sure to watch the video that Anna Bates published to her Web Blog, Woolie Mammoth, and to her YouTube channel, Quilt Roadies.
Happy Stitching!!
Recently added